Tasmania - Day 6
Here's the very last installation of the tassie trip. Oh, before I proceed further, on the night of Day 5, we drove up Mt Wellington and the view was magnificent! Seeing the entire city lit up and the perfect round moon reflected onto the waters of the lake - stunning! I borrowed Ash's cam as Pete's was left elsewhere and he has yet to pass me the photos, so, sorry can't share the wonderful view with you readers... Maybe someday when he does pass them to me, I may upload it here... But dare I say that despite it being summer, the temperature up the mountain (12km drive from base to peak, slightly more than 1km high) was below freezing point and silly me who left my Kathmandu jacket at our accommodation had to bear the chilly winds on the pinnacle with just 2 layers: a sleeveless tee inside and my thin-fabric Adidas Core Power hoodie top outside... Brr... My ears did hurt later, standing exposed for more than 10 minutes... You may wonder why I left my jacket - well, before we came out for dinner (which was Mures Seafood by the way), I checked my exam results online and the jubilant email from med fac telling me I've passed ICE and can now proceed onto Phase 3 kept me grinning and distracted that night, so there...
Anyway, back to Day 6. We went to Sorell Fruit Farm to pick fresh fruits. For $10, you get a medium-sized container: fruits in season at the time we went were strawberries, cherries, raspberries and tayberries. Of course we busied ourselves with tasting the delectable fruits as we picked them, so in other words, $10 = a container full of fruits + whatever you choose to put into your mouth before you leave. Mind you, I felt like I gobbled more than a container of fruits along the way...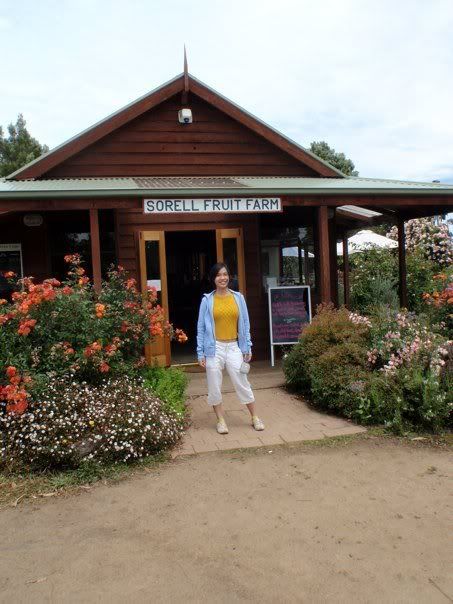 Sara posing at the entrance of the cafe / gift shop
Look guys, Ash is gonna be our tour guide... Oh wait! There's a "directory" here!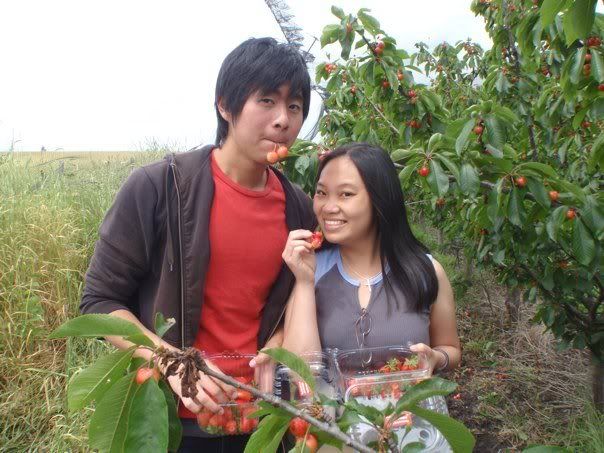 Richard and I at the cherries section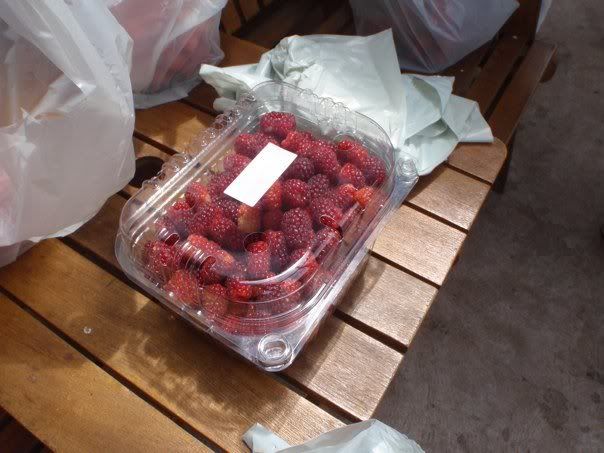 Pete's container of mixed berries
Could have taken more photos but Pete's cam "crashed", which was surprising since it was only recently bought. Thank goodness he could get it to work again after a few tweaks here and there and need not pin the blame on yours truly who had been snapping away with it for the past week. Well, what can I say? After all, he did chuck his cam at me every morning as we hit the road and told me to "go nuts" - literally quoting him here! In case you're wondering, the cam is Olympus Mju Tough 6010 - it's supposedly waterproof, shockproof, snowproof, shakeproof and nightproof but I guess it's not "crashproof"? Not so
tough
, eh? I suppose that's why they went on to develop the 8000 model instead (claimed to be the strongest digicam in the world)... But I do admit that aside from this "crash" incident and the relatively long waiting time between taking photos (compared to other digicams), the 6010 is quite a good model, especially with the Panaroma mode...
Ok, let's not get carried away with the rantings on digicams; back to the trip. After fruit-picking, we went shopping at Hobart and before we knew it, it was time to return our hired car (still can't believe we got the massive Hyundai iMax!) and checked in at the airport for our flight back to Sydney.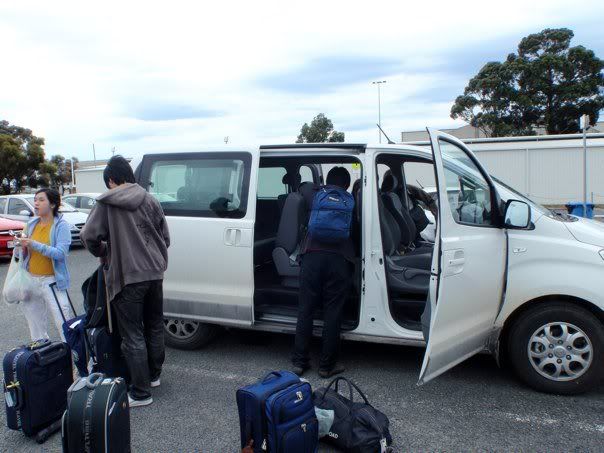 Unloading the luggages
6 days around Tasmania, clockwise (south-west-north-east-south), from Hobart back to Hobart?
It was one amazing picturesque trip.
Sigh, can't believe it's more than a month since the trip and exactly a month since moving into my new place (15/12/2009-14/1/2010) - time flies! And while I'm all excited to start my Surgery term at Prince of Wales Hospital, I find it hard to bid adieu to summer break...
2010, what will you bring?