TKC's Leaders Recognition Dinner
Last Monday, I had the opportunity to experience one of the best dinners ever (it even beats hotel food!) - The Kensington Colleges (TKC)'s Leaders Recognition Dinner. It was a dinner to acknowledge the current leaders (O-Week leaders and House Committee members) of the 3 Kensocolls, namely Basser (the one I'm in), Goldstein and Philip Baxter. Being the current female committee member of the House Administration Committee (HAC), I was delighted to receive the invitation letter in my mailbox the previous week. And to make things grander, the ceremony was graced with the presence of the Vice-Chancellor (VC) and President of UNSW itself, Prof Fred Hilmer, who presented us with certificates of appreciation signed by him! Some uni graduates don't even have the privilege of getting their degrees with his signature on them but here I have in my possession now something of "value", hehe... An inside source also informed me that the dishes they served that night was the best menu ever in TKC history (must be because the VC was there, lol)... We started off in Bronham Room (the VIP room above the dining hall) where a bar has been set up - I had a glass of champagne plus a shot of bloody mary + oyster, not to mention I was served with various tantalising finger food. And TKC has even hired a professional photographer and another videoman to film the whole event (did I mention it was an inaugural one?). Anyway, here's some photos from the night in the dining hall: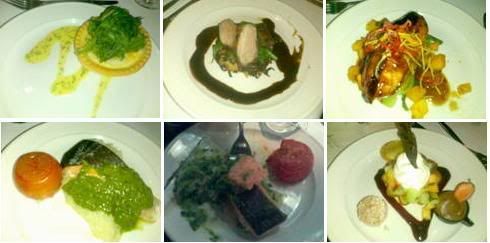 The amazing dinner we had... 2 entrees: blue cheese + pear pie and quail meat (it's my first time tasting quail meat!!!)... 2 main dishes: mango chicken and pesto salmon (took another shot of this when it's cut open - perfect texture!)... 3-in-1 dessert platter: mixed fruit pie served with cappucino cream and chocholate mousse (in an edible chocolate cup!), garnished with strawberry, chocolate sauce drizzle and chocolate leaf... All these went well with the 2 glasses of white wine and 1 glass of red wine that I had - a friend told me the wine they served was one of the more expensive ones around!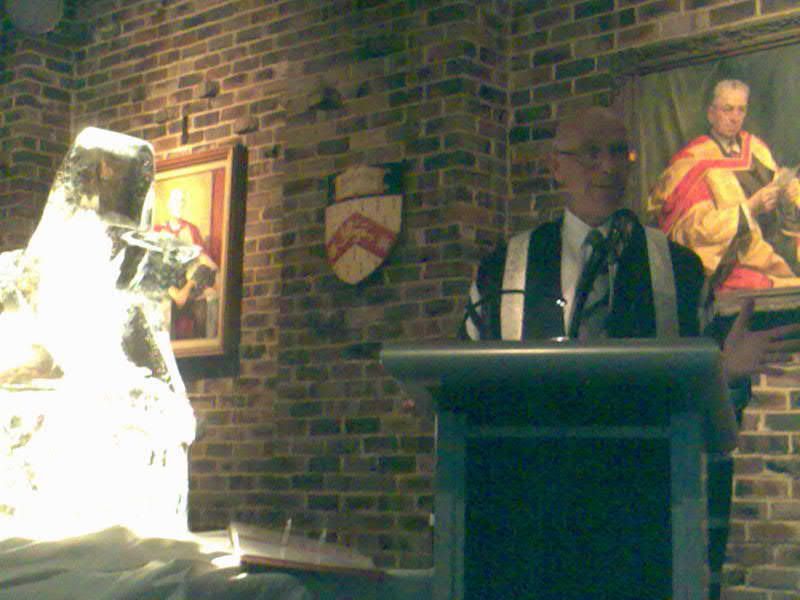 The VC + Prez of UNSW (Prof Fred Hilmer) addressing us in the dining hall - notice the beautiful spotlighted ice sculpture next to the lectern - it's a star-shaped one (coz, to quote TKC's Principal Ian Walker, "you're all stars") with "TKC" sculptured at the base...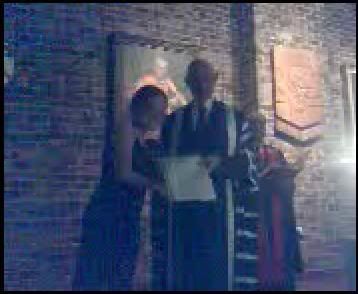 Me receiving my cert from the VC - sorry for the blurry image; may post up another one when TKC's hired photographer has compiled the photo CD... and yup, that's me in a dress, for those of you who commented that I never wear dresses... :p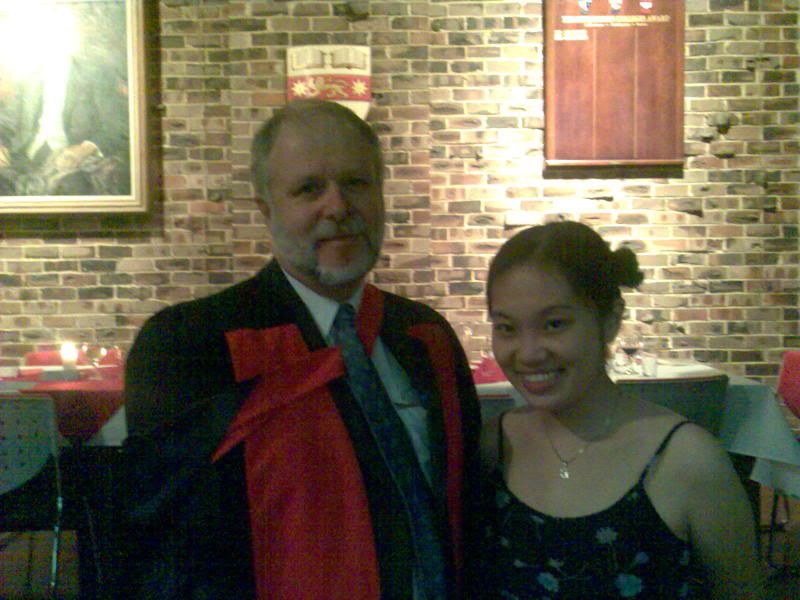 Dr Geoff Treloar (Head of Basser + Vice Principal - Academic of TKC) and I at the dinner
One for the camera: Dan and I
Ended the night with my final drink with Will - a shot of Bailey's (I just love the smooth Irish cream taste in this drink)...
TKC's Leaders Recognition Dinner - the best dinner ever! ^_^